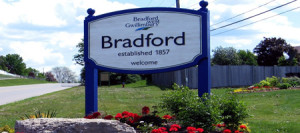 The town of Bradford is the main urban area of the Town of Bradford West Gwillimbury, north of Toronto with a population of approximately 30,000. It overlooks a farming community, known as The Holland Marsh, located on the Holland River that flows into Lake Simcoe. Bradford West Gwillimbury consists of smaller communities such as: Bond Head, Dunkerron, Green Valley, Pinkerton, Fisher's Corners, Newton Robinson, Coulson and Deerhurst.
For Featured Homes in Bradford, click here.
For Information on any happenings within Bradford, please click any of the images or links.